Lynda Obst on Pre-Awareness and Sequelitis

Sleepless in Hollywood: Tales from the New Abnormal in the Movie Business
By Lynda Obst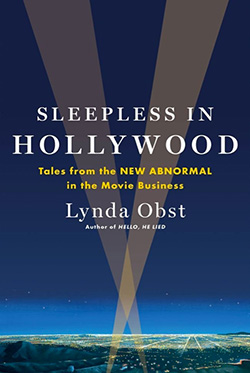 By the author of the bestseller Hello, He Lied, a veteran producer takes a witty look at the new Hollywood. Lynda Obst returns to dish on the experts, tastemakers, and moguls of today's Hollywood and the movies they make, and describes how the movie business has lost its MO—and is now losing its talent to network and especially cable TV.
With the collapse of the DVD market, the movie industry was crippled. The business reacted by producing tentpoles (mega-hits) or tadpoles (which nobody gets a chance to see). Why? Since the majority of their revenue comes from the foreign market, especially Russia and China, studios are no longer dependent on expensive stars or dialogue (i.e. writers). Special effects and 3D replace people.
Obst speaks from the front lines. Her subjects are friends, moguls, former employers, mentors, and even relatives, who express their opinions with disarming bluntness and hilarity. Obst combines her experiences with insights from the smartest people in the business.
Simon & Schuster (June 11, 2013)
ISBN: 1476727740
Hardcover: 272 pages
Buy the Book
• Amazon
• S&S
• IndieBound
Hello, He Lied: and Other Truths from the Hollywood Trenches
By Lynda Obst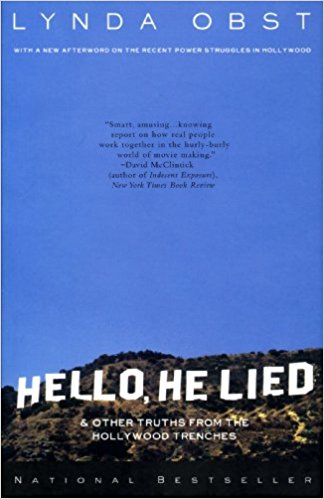 Hello He Lied welcomes you to the inside world of Hollywood - where there is no glossary and people play by rules discernible only to those on the inside. Here Lynda Obst shares what she has learned in over twenty years in the business, about how to pitch an idea, impress a suit, win a bidding war over a hot script, and massage egos, as well as the all consuming issue of how to dress on location, what to say to skittish directors, where to eat lunch - whether in New York, LA, or a town you've never heard of - and most important, how to produce successful, critically acclaimed movies.
Hello He Lied was first published by Little Brown and debuted at #1 on the LA Times Best Seller list. It was published by Broadway Books in paperback in 1997, once again debuting on the Best Seller List where it remained for 12 weeks. Hello He Lied was recently adapted into a documentary by the award winning directors Shari Springer Berman and Robert Pulcini and aired on AMC.
Broadway Books Oct 1997
ISBN: 0767900413
Paperback, 252 pages
Buy the Book
• Amazon
Rolling Stone History of the Sixties:
The Decade Remembered Now by the People Who Lived Them
Edited by Lynda Obst
Lou Adler on Monterey Pop, Myra Friedman on Janis, Wavy Gravy on Woodstock, Dick Clark on American Bandstand, Pete Townshend on the Mods, Bill Graham on the Fillmore, Michael Bloomfield on Dylan, with the rest about world/political events. Some of the material is reprinted from other surces and some was prepared specifically for this book.
Random House 1977
ASIN: 0394732391
Hardcover

Buy Sleepless in Hollywood from Amazon
Buy Hello, He Lied from Amazon
Buy Hello, He Lied from Barnes & Noble

"The New Abnormal: Tentpoles, Pre-Awareness, and the Crisis in Hollywood According"
By Andrew Gumbel
Los Angeles Review of Books
July 26, 2013
IN THEIR 1992 MOVIE The Player, Robert Altman and Michael Tolkin satirized a Hollywood where studio executives think in clichés, operate on fear, heap abuse on all who come to pitch ideas, and dream of a day when they can simply... read more.
"Hollywood's Completely Broken"
Salon
June 15, 2013
When you stopped buying DVDs and started streaming on Netflix, Hollywood's economics changed. So did the movies ... read more.
"David Edelstein and Producer Lynda Obst on Hollywood's Blockbuster Problem"
By David Edelstein
Vulture
June 30, 2013
A few weeks ago, in a televised symposium, Steven Spielberg predicted the "implosion" of Hollywood as a consequence of blockbuster mania while George Lucas sat next to him, nodding... read more.
"Review: Sleepless in Hollywood"
Kirkus
May 15, 2013
Journalist-turned-producer Obst (Hello, He Lied: And Other Truths from the Hollywood Trenches, 1996) casts a sharp eye over recent developments in Tinseltown.... read more.
"Movies are Like Babies"
By David McClintick
The New York Times
October 13, 1996
Walking my dog on West End Avenue a few months ago, I encountered the Hollywood producer Lynda Obst in a thicket of lights and cameras. She was on location with her new movie, One Fine Day, starring Michelle Pfeiffer and George Clooney... read more.
"Lynda in Wonderland"
By Jeff Silverman
The Los Angeles Times
September 9, 1996
If we can begin by postulating that there's an actual order to the Hollywood universe, then its first law of personal dynamics would go something like this: for every action--which, of course, includes inaction--there is an equal and underlying self-interest... read more.